South Tyrol Weather forecasts

Weather forecasts of today, 02.07.20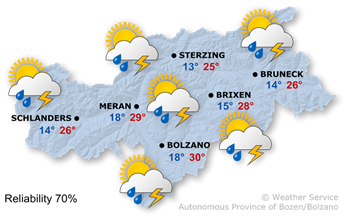 Sun, clouds and thunderstorms
Weather Conditions
South Tyrol remains under the influence of humid and unstable air masses.
Today's Weather forecasts
Partly sunny. In the afternoon and evening cumuliform clouds with thunderstorms will develop.
Weather forecasts of tomorrow, 03.07.20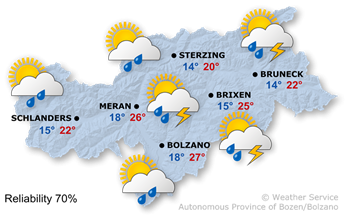 Changeable conditions, slightly cooler
Weather Conditions
Low pressure conditions.
Tomorrow's Weather forecasts
Mostly cloudy. Possibility of isolated rain showers in the morning, more rain showers and thunderstorms in the afternoon. In the north Föhn.
Next days Weather forecasts
Stable weather during the weekend
Sat


Sun


Mon


Tue


reliability:
80%
80%
80%
60%
---
issued: 02.07.20, 11:00
© Provincia Autonoma di Bolzano