South Tyrol Weather forecasts

Weather forecasts of today, 17.09.19
Lots of sun
Weather Conditions
High pressure conditions.
Today's Weather forecasts
Sunny conditions in the whole region, only a few clouds. Föhn winds in the north.
Weather forecasts of tomorrow, 18.09.19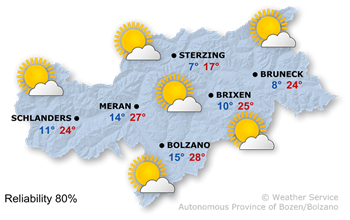 Very sunny
Weather Conditions
High pressure conditions lead to sunny conditions. Colder air masses reach our region.
Tomorrow's Weather forecasts
Very sunny all over the day. Towards the evening some cumuliform clouds will develop in the southern regions and local rain showers are possible. Windy in the northern valleys.
Next days Weather forecasts
Sunny, but lower temperatures
Thu


Fri


Sat


Sun


reliability:
80%
80%
80%
70%
---
issued: 17.09.19, 11:00
© Provincia Autonoma di Bolzano