South Tyrol Weather forecasts

Weather forecasts of today, 24.05.19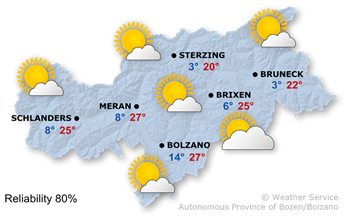 Sunny weather
Weather Conditions
Central Europe remains under the influence of a high pressure area.
Today's Weather forecasts
Sunny weather with some cumuliform clouds during the afternoon. The probability of thunderstorms will increase lightly on the southern regions in the evening.
Weather forecasts of tomorrow, 25.05.19
Cloudy and some showers
Weather Conditions
A southern high-altitude current brings humid air into the Alps.
Tomorrow's Weather forecasts
The day is mostly cloudy and the sun shines only occasionally. In the course of the day, especially in the afternoon and evening, one must expect some rain showers. Thunderstorms are also possible.
Next days Weather forecasts
Sunday friendly, afterwards unstable
Sun


Mon


Tue


Wed


reliability:
70%
70%
70%
70%
---
issued: 24.05.19, 11:00
© Provincia Autonoma di Bolzano