South Tyrol Weather forecasts

Weather forecasts of today, 16.01.19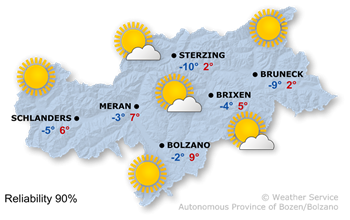 Sunny
Weather Conditions
High pressure conditions.
Today's Weather forecasts
Sunny weather with only few clouds.
Weather forecasts of tomorrow, 17.01.19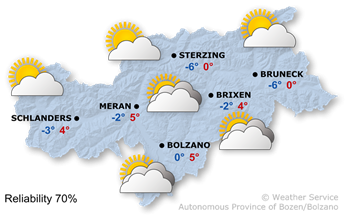 Clouds, partly sunny
Weather Conditions
Humid air reaches the Alps from the South.
Tomorrow's Weather forecasts
Very cloudy in some valleys with first rain drops or snow flakes during the day. Probably quite sunny conditions towards the west. Light precipitation during the following night, snow level around 800 m.
Next days Weather forecasts
Sun and clouds
Fri


Sat


Sun


Mon


reliability:
80%
70%
70%
70%
---
issued: 16.01.19, 11:00
© Provincia Autonoma di Bolzano