South Tyrol Weather forecasts

Weather forecasts of today, 29.01.23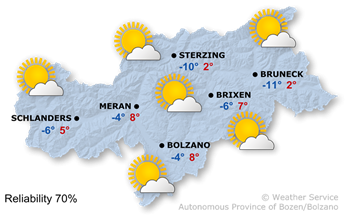 Sunny weather
Weather Conditions
High pressure will determine the weather conditions.
Today's Weather forecasts
Sunday very sunny. Mostly clear sky in the forenoon, some high clouds passing from North during the afternoon.
Weather forecasts of tomorrow, 30.01.23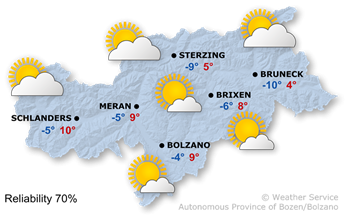 Sunny weather, light snowfall in the North during the evening
Weather Conditions
A weak cold front will reach the Alps in the evening.
Tomorrow's Weather forecasts
Monday at first sunny weather, later unstable conditions in the North with light snowfall on the border to Austria. North foehn in some valleys.
Next days Weather forecasts
Sunny weather on Tuesday
Tue


Wed


Thu


Fri


reliability:
70%
70%
70%
70%
On Tuesday sunny weather. Sunny weather on Wednesday in the South, changeable in the northern parts. On Thursday more clouds with snowfall in the northern parts of the region. On Friday weather improvement.
---
issued: 29.01.23, 10:00
© Provincia Autonoma di Bolzano
It may also interest you: