South Tyrol Weather forecasts

Weather forecasts of today, 15.11.19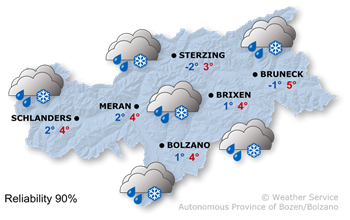 Heavy rain and snow
Weather Conditions
Low pressure conditions.
Today's Weather forecasts
Widespread and strong precipitations in the afternoon. Level of snow fall between 800 and 1700 m. Precipitations will stop during night.
Weather forecasts of tomorrow, 16.11.19
Slight weather improvement
Weather Conditions
Humid air over the Alps.
Tomorrow's Weather forecasts
Cloudy weather with some local precipitations, level of snowfall between 800 and 1300 m. During night a new front with widespread precipitations will reach the region from the east.
Next days Weather forecasts
Unstable conditions
Sun


Mon


Tue


Wed


reliability:
70%
70%
70%
70%
---
issued: 15.11.19, 11:00
© Provincia Autonoma di Bolzano