South Tyrol Weather forecasts

Weather forecasts of today, 13.12.18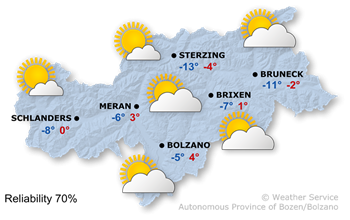 Sun and clouds
Weather Conditions
A high pressure system is situated in the North, a low in the South of the Alps.
Today's Weather forecasts
Quite sunny weather in the North, more clouds in the southern region.
Weather forecasts of tomorrow, 14.12.18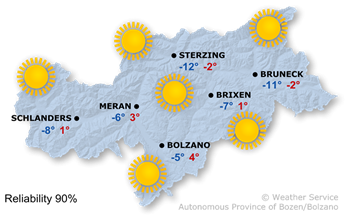 Sun
Weather Conditions
The pressure on the Alps will tend to increase ensuring stable weather.
Tomorrow's Weather forecasts
Very sunny weather with clear skies. Wind from the North near the border ridge.
Next days Weather forecasts
Cold
Sat


Sun


Mon


Tue


reliability:
80%
70%
70%
70%
---
issued: 13.12.18, 11:00
© Provincia Autonoma di Bolzano