South Tyrol Weather forecasts

Weather forecasts of today, 03.08.21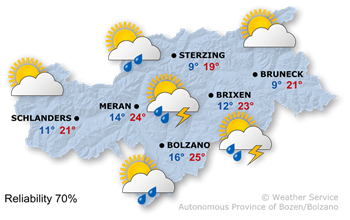 Changeable conditions
Weather Conditions
A depression centered over northern Europe will determine the weather in the Alps.
Today's Weather forecasts
Mostly cloudy with some rain showers during the day. Thunderstorms are possible in the evening.
Weather forecasts of tomorrow, 04.08.21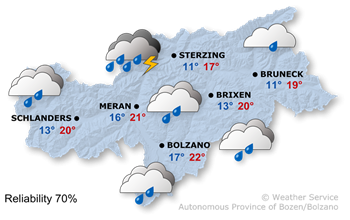 Rainy
Weather Conditions
Low pressure conditions determine the weather.
Tomorrow's Weather forecasts
Overcast. During the day it will begin to rain, especially in the areas Ulten and Passeier. In the evening and during the following night heavy rainfall is possible, also thunderstorms are possible.
Next days Weather forecasts
It will become warmer
Thu


Fri


Sat


Sun


reliability:
70%
70%
70%
70%
---
issued: 03.08.21, 11:00
© Provincia Autonoma di Bolzano